This is the first part of a three part series: Adaptations for Athletes. You can read part 2 "Adaptations for Athletes – Video in Remote Scouting" from January 28 2021 here. And, you can read part 3 "Adaptations for Athletes – Video in Remote Recruiting" from February 8 2021 here.
COVID-19 has impacted nearly every aspect of athletics around the world, but perhaps none have been affected greater than athletic training.
For at least a good chunk of the pandemic, gyms have been closed everywhere. Access to in person personal trainers has never been more restricted. So like everything else in life, we've had to adapt and resort to video for our athletic training needs. This is occurring at every level, from amateur and pro players and teams to just your everyday Joe or Jill who just wants to get in a good workout.
If you're reading this, chances are extremely high that you've had to use some kind of video technology to adapt to remote athletic training sessions. If you're normally seeing a trainer or you're part of an organization with a set, specific workout regimen, chances are you've received instructions on how to proceed during these limited pandemic months that have felt like they've stretched on forever. That could include pre-recorded routines, yoga sessions, pilates or kickboxing classes or even stretching exercises that you can follow along with from the comfort and safety of your own home.
There have even been professional teams that have sent over supplies to their players and athletes to help stay fit, like they're FreshDirect delivering the ingredients to make a delicious meal. From resistance bands and weights to exercise balls to even hoops for basketball players used to relying on their teams' facilities, some organizations went above and beyond for their pro and amateur athletes. Organized activities like weight training sessions or kickboxing classes have also taken place, adopting the Peloton model of group exercise which began getting hot even before the global pandemic broke out.
But there are issues that arise and stem from remote athletic training.
How do you know when to stop practicing or when you've done too little or too much? Could your overuse and over-exercise result in injury? Maintaining guidelines are crucial and scheduling and adhering to rest days are hugely important as well. It's a balancing act between keeping your body fit or being ready for game day while not developing bad habits either in your individual workout routine or on the field or court.
If you're at home, hopefully you've been implementing some of these strategies to ensure that your athletic training experience over video has been guided by a regimented plan and that plan has been stuck with and adhered to. Incorporating all these elements are vital to ensure that the pandemic year is not a lost one in terms of athletic development. But those questions above – and more – remain. What if you aren't sure how to get better? What if you don't have the time or expertise to review that video? What if you want to take it to the next level?
SportsTrace allows you to do all of that and more. You can:
Manage your video sessions. See how many reps you have taken, when you have taken them, and view your entire library of video sessions
Review your video sessions. Your progress is right at your fingertips. Your consistency, your improvement, your overall progress is automatically generated from the videos you have uploaded with no effort on your part
Get recommendations for improvement. Have an area of your swing, throw, form, technique that is inconsistent? See what coaches and experts in our network recommend to make you better faster: drills, information, and products that will work on your specific needs
Compare what you are doing – not just to your self and your other videos, but to the pros. See where you stack up and how you are evolving.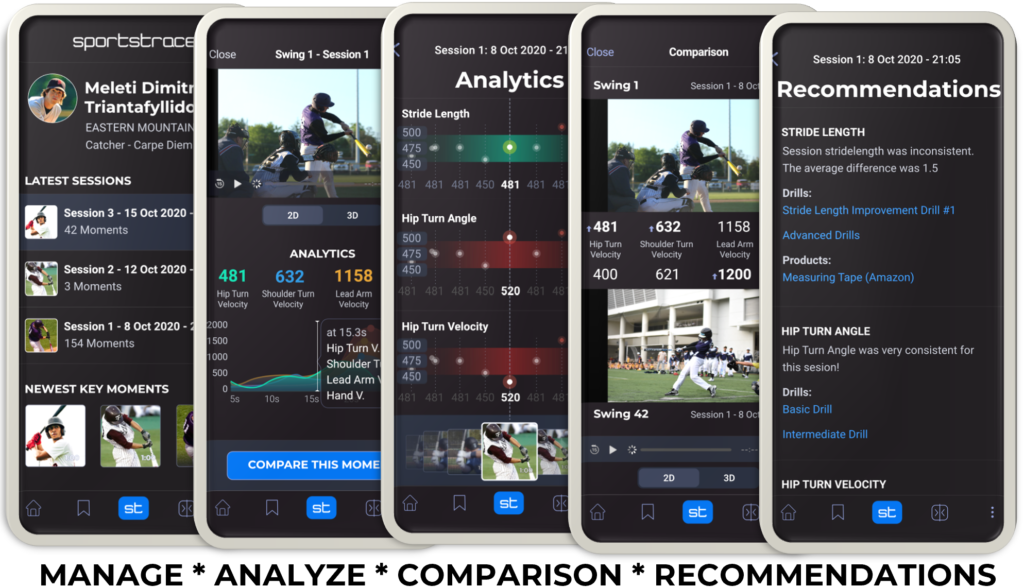 There is video, which is an important part of the remote training regiment. Then there is your next level solution – SportsTrace. Try us out now for free.