This is the second part of a three part series: Adaptations for Athletes. The third and final installment will be available on February 8. You can read part 1 "Adaptations for Athletes – Video in Remote Training" from January 18 2021 here. And, you can read part 3 "Adaptations for Athletes – Video in Remote Recruiting" from February 8 2021 here.
Just like every aspect of life that relied to some degree on in-person interaction, athletic scouting has been drastically impacted by the coronavirus pandemic.
Since the time the NBA shut its league down last March, scouting opportunities have been dramatically changed and in many ways diminished. Evaluating players for its annual draft, which took place in November instead of June, was harder because not only was there no combine or group workouts but the NCAA Tournament, the ultimate scouting gold mine in any sport, was canceled in an unprecedented measure of caution. Some scouts are starting to go on the road in some situations, but those opportunities are still severely limited. They still have a plethora of video tools at their disposal, some proprietary, but there's still something unique about scouts swapping information and intel with personnel from other teams at actual individual arenas rather than online.
If you think NBA scouts have it rough, NFL scouts have more than three times the players on their rosters to account and watch out for at a high level. In addition to fewer college football games over the fall, with limited to no access to games in the stands, there will be no scouting combine this year in Indianapolis. There won't be a famous televised 40-yard dash, no cone or shuttle drills, no bench presses and most importantly, no individual in-person meetings while all the best prospects are in one place. Workouts will take place on individual pro days on college campuses, giving teams and scouts less control over the process. It'll also be more difficult for specific, tailored evaluations of certain players and harder to get standardized measurements and medical information. Prospect interviews and psychological assessments will take place virtually, where they'd normally happen at the combine.
Of course every pro sport is affected in some way. From soccer teams around the world having less access to players during the current January transfer window to Major League Baseball teams navigating free agency to the start of the NHL season. But it also impacts college and high school sports as well.
When MiLB seasons were suspended in 2020, athletes were unable to showcase their talents and develop their games. This put a halt to scouting at the minor league level as well. When college baseball programs were taken off of the field of play in 2020 and students in general began distance learning off campus, there was no way to evaluate players matriculating. There was no easy – and in some cases, possible – way to understand what the competition was doing. Venues for evaluation were closed down and any video that was available for scouting the competition amounted to a herculean undertaking. From showcase tournaments to regular play, player scouting was as near to halted as a full stop could be.
For some of the smaller schools across the country, access to high quality video could be limited or even non-existent, which impacts how opponents are studied and has significantly altered the high school and college recruiting process, which we'll get to in another piece. But no matter how large or small your organization is and how well or poorly funded you are, your ability to scout players has unquestionably been diminished during this pandemic, no matter how many video technology tools you may have to help scout and evaluate players and teams to the best of your ability.
SportsTrace allows scouting to continue both at scale and in spite of on-field restrictions. You can:
Manage player video sessions. See individual players, sort, and store the video for each person you are evaluating individually
Review player video sessions. You can now see real data behind the movement of a player…how fast and consistently they move, to create your plan of attack when scouting
Review open. player recommendations. As a scout, it's easy to see where and when a player is adjusting to recommended areas of improvement in form and technique…and when they are not
Compare different players. – Need a visual benchmark for players you are scouting? Simply click and compare to see swings side-by-side with all the data you need.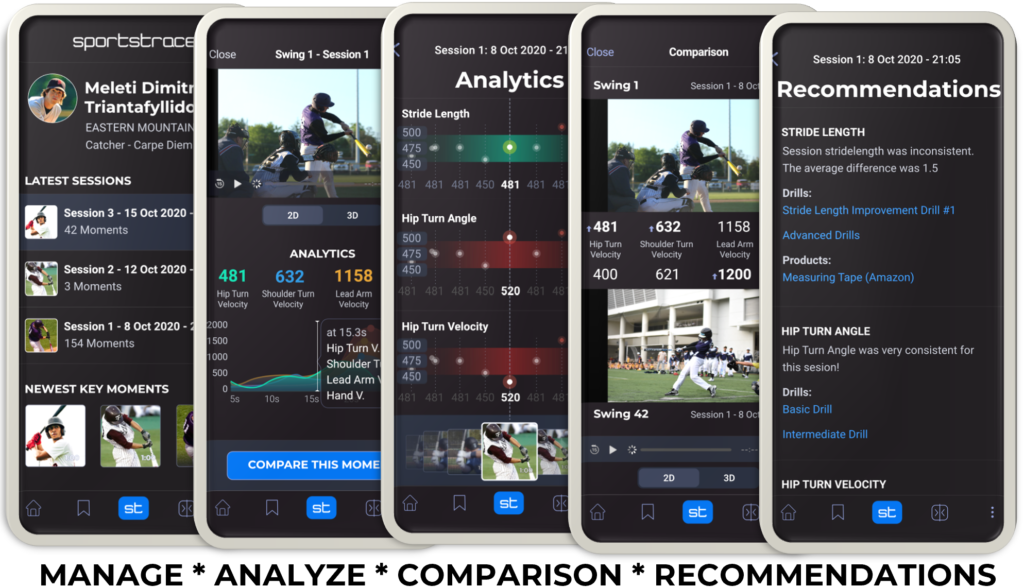 There is video, which is an important part of the remote scouting endeavor. Then there is your next level solution – SportsTrace. Try us out now for free.